Children's Bedroom Furniture
Children do attract plenty of toys and the older they get the more clutter can gather in bedrooms. We can create bright or neutral rooms that are happy and will work for all ages. Evoking a feeling of fun and personality really can help your child to make a room feel like their own.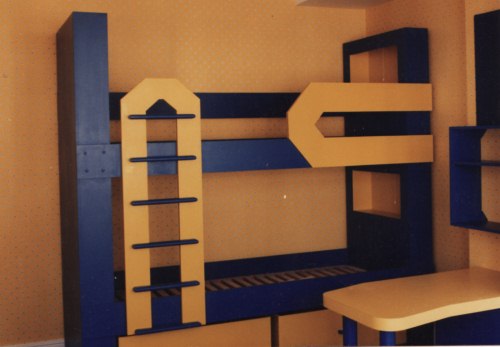 Creating vibrant areas within a room as well as peaceful areas to retreat, no matter the size of space available, can help your child relax when it comes to bed time.

Whichever way you choose to design and decorate your children's bedroom, furniture designed for it should compliment your finished idea perfectly. Our team will help you to create lasting individual pieces, or fitted furniture that does that – fits in neatly, and lasts for years.
We can make wonderful use of the space available using hand crafted, fitted and stand alone furniture that stands the test of time.
Sleep Stations
Cabin Beds
Bespoke Designs
Workspaces
Storage


Creating happy rooms for children of all ages, we will put a smile on their faces!
Whilst we know that designing your child's room can be a little overwhelming, we have an array of design ideas, solutions and themes to create the perfect room for your little ones.
We always listen to your requirements and create storage spaces for toys, clothing, footwear and more. And though we concentrate on your expected current usage, we will help you consider the future use of the bedroom too.
As your child grows, they may need space for desks and workspaces and we can listen to your ideas and create an outstanding room that can be adapted as your child grows.
Let your child's imagination run wild – create themed rooms, murals or film sets around the furniture, or simply build a lasting classic or contemporary style that fits in perfectly with your child, and with your home.
Our team will help you with designs that make best use of awkward or small spaces. Creating functional rooms that ooze character and create the atmosphere you would enjoy yourself, your children will be delighted with our imaginative styles.
Speak to us today about our flexible design solutions for y our children's bedroom call on 01268 418 704