Fitted Bedroom Furniture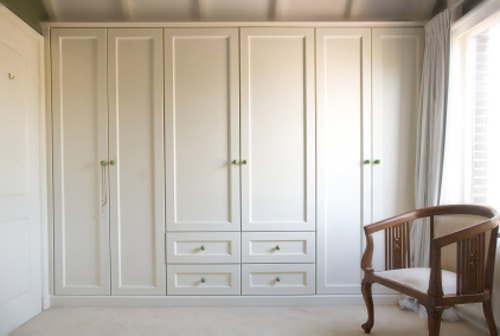 You may be looking for new styles for your bedroom or master suite. The Fitted Furniture Specialists supply elegant designs to suit all tastes. Contemporary to classic, today's creations to traditional, we can design bedrooms of high-end quality to ensure your room is intimate, personal and individual.
With bespoke fitted furniture of superior quality, we let our clients choose from simply the highest standards of fittings, to compliment the hand-made furniture that you choose.
We create the perfect haven – somewhere to get away to after a tiring day. Fitted bedrooms with inbuilt wardrobes and bespoke furniture with subtle or bold décor can really enhance your room. And our team will make the most of the space available – awkward shapes or small alcoves can become a feature, rather than a hindrance.
Visionary furniture that has flair and injects personality into your home whilst complimenting the rest of your room can be a complex process. The team here have in depth experience of taking our client through the whole process, making it easy to develop what was initially just an idea, through to a complete work of art!
With a number of finishes to select, each one can be chosen to complement your décor perfectly. With glazed, mirrored and wooden wardrobe doors teamed with equally stylish dressing tables, cabinets and fittings we can help turn your design and décor dreams into reality.
Functional storage solutions that are stylish, glamorous, nostalgic and visionary
And not only can we help create a romantic room to get away to, we are proud about the children's and teenager's room creations we have delighted in designing. Modern or classic rooms can be created, and each one is unique. Because we have wide ranging experience in creating hand-made bedrooms, we are perfectly suited to designing and creating the most individual bespoke room for you.
Inviting you, our client, to browse our website and contact us about a home visit. We will always come to you at a suitable time, and will listen to your requirements. Following a home consultation, we will be able to provide a quotation based on your personal needs.
Maximising Living Areas & Utilising Inaccessible Space
Corners and otherwise awkward areas mean that lots of homes don't use the home to its potential. Planning and designing an individual look can be difficult, but using fitted furniture in place of freestanding items can help recreate an impressive design and finish.
Using full height of any space, we can create hand made pieces that best make use of height instead of valuable floor space. Creating a sense of space is vital in a 'today' or period home. This is a great idea for irregular shaped rooms where we can help you to maximise the available space.
Standard shaped rooms can benefit fully from a bespoke 'luxury' feel too. Individually designed bedrooms enhance the room and make the home desirable should it be that you decide to sell your home later on.
For further information on our bespoke service and hand crafted and expertly fitted bedroom furniture, call us today on 01268 418 704
Take a look at some bedroom furniture that we have recently designed and fitted.
Perhaps you want to fit out your Children's Bedroom or even your Teenager's Bedroom, either way we can help, click to find out more.