Sliding Wardrobe Doors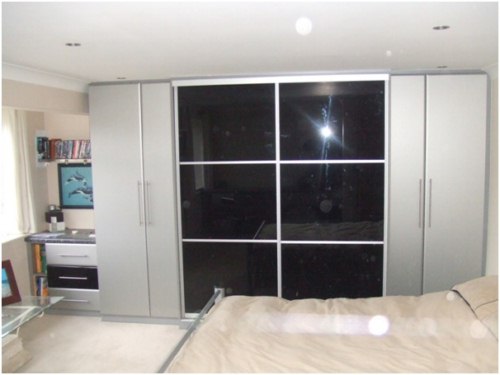 Because we are true experts, we build breathtakingly beautiful and stylish made to measure sliding wardrobe doors. With an impressive 23 years of experience in creating bespoke furniture, we can plan and design unique furniture for a one-off room idea that not only helps create atmosphere but injects real personality into your home.
Sliding doors can help to make use of space, cleverly concealing a multitude of sins! Whilst we create custom made doors that are fully tailored to suit you and your home, we take a choice of superb quality materials and turn them into one-off creations to compliment your room design perfectly.
Because sliding doors are easy to see, our team knows how crucial it is to design the most perfect doors to suit. Whether you are looking for a subtly classic feel that won't undermine the other pieces of furniture in a room, or you're looking to maximise a whole wall, floor to ceiling, to create a conversation piece then we've the experience to do just that.
Sliding wardrobe doors really offer space saving at its best – it's a fantastically affordable option and they can be fitted with the minimum of disruption to your home.
Clever Storage Ideas in a Variety of Finishes and Materials
We use clever interior storage ideas and bring our clients finger tip touch sliding doors that are easy to manoeuvre and long lasting. All of our sliding wardrobe doors are available in a number of different finishes and materials. And we can combine varieties of materials to achieve a unique end result to compliment the room, décor and furniture.
Natural wood effects
Mirrors
Coloured lacquered gloss
The wardrobe doors we design and make are designed to be sturdy and built to last. They also help blend walls and other doors around the room, so that we achieve a perfectly neat finish that merges perfectly with the rest of the room. Creating a modern sleek effect, or a heavier traditional period style, our team will only ever sell you what you want – not what we would like you to order. We can give you complete access to a whole area of a room whilst giving you the option to shut that part of the room off when you need to.
Easy Access to Clothing & Storage
Through the use of the highest quality materials that we can source, we can create sliding wardrobe doors that are individually made according to your personal style.Often our clients wish us to match wardrobe doors to the existing décor, something we have lots of experience in. And our customers regularly ask our designers to create a completely new look. We cleverly put plans together using bespoke designs which ooze style and sophistication.
Replacement Wardrobe Doors
Odd Room Sizes
Sloping Ceilings
Clever Storage Solutions
Complete New Look
We have many alternative styles and designs in our design gallery and invite you to take a look at the different options available. Maximising the space you have is made easy – we'll put together a beautifully unique solution that works just for you, that will remain in place for years to come.
Call us today – once you invite us to your home, we will listen to your requirements, offer advice where necessary, and take precise measurements. When we return we will professionally fit your new doors, creating a stylish new area for whatever you need to store neatly, call us now on 01268 418 704.